Our solution
All your payments and banking in one place
Take payments
We enable businesses to securely process card payments, digital wallets and Faster Payments via web, mobile and virtual terminal with improved conversions and automation.
Make payments
Funds can be disbursed instantly via our intuitive platform or API to people using the Faster Payments network.
Payment processing
Approve more transactions
Our payment technology is designed to improve efficiency, we've automated manual time consuming processes to make your life a little bit easier.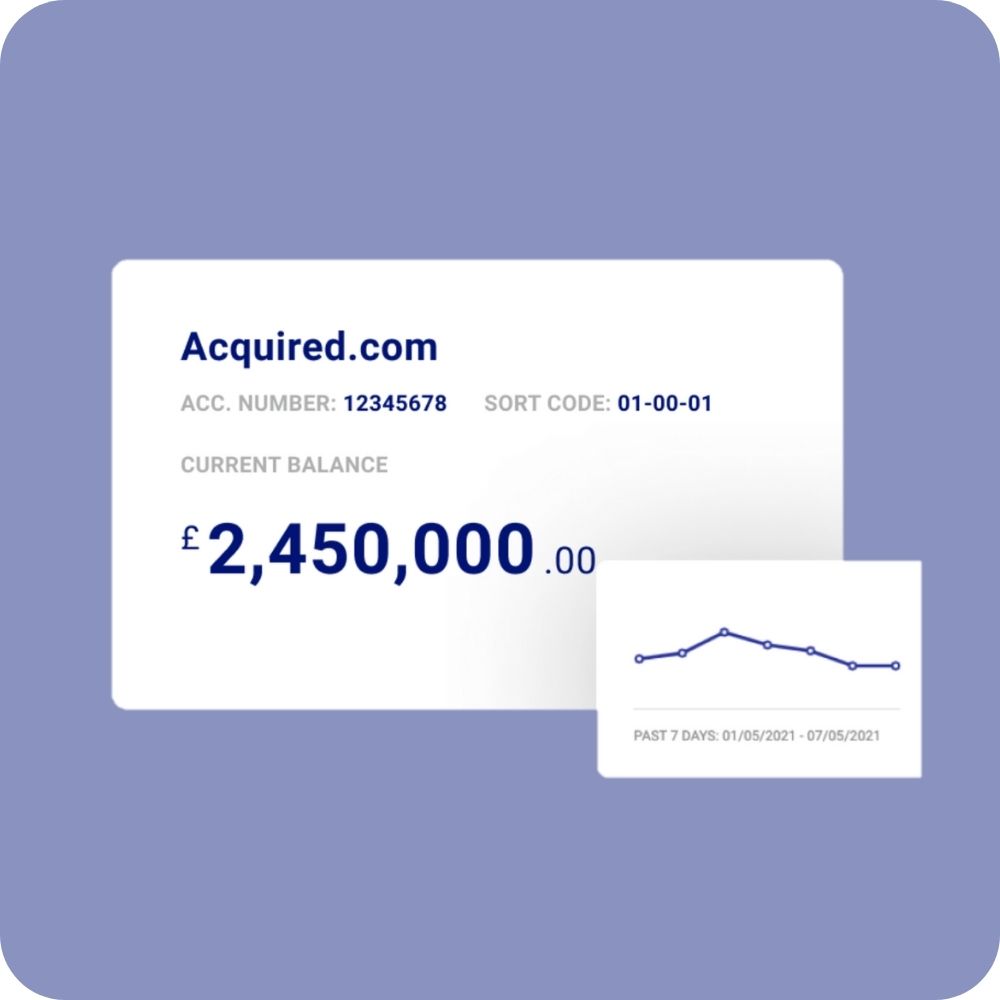 Banking services
Simple & secure digital banking
Using the Acquired.com user interface or via API you can process payments and move funds within the same platform.
Features
Our growth maximising features
Unified platform

All processing and banking activity is easily accessible on a single screen, through a single integration.

Consultative approach

Speak directly to our team of payments experts. Our management team alone has over a century of payments experience.

Granular reporting

We provide a full suite of reports using our deep data approach.

Superior reconciliation

See exactly what will hit your bank account, all on one screen.

Risk management

Gain peace-of-mind through our automated risk management tools and EMV 3DS integration.
Partners
Become an Acquired.com partner
Our partners are at the forefront of innovation in their respective fields, and need payment solutions that can support their vision and help realise their ambitious growth goals. Discover how we can work together.
"Railsbank and Acquired have been trusted partners for almost 2 years supporting clients across Europe and in an array of sectors. The level of shared collaboration, knowledge and professionalism across the organisations is delivering significant value and growth for our mutual clients. Acquired have demonstrated time and time again that they always put the customer first and offer a consultative service to ensure needs are at least met and regularly exceeded. We really enjoy working with the Acquired team and are looking forward to supporting their ambitious growth plans as well as our own." Louisa Murray -

Railsbank
"We were keen to work with a partner who was a stand-alone provider and not owned by a direct acquiring bank. The Acquired team was productive and supportive of our business strategy from the very first engagement. Acquired's core product range has allowed us as a software service provider to react rapidly to customer integration, their team seamlessly managed all our integration requests and their proactivity and flexibility enabled us to quickly reach a go to market live service. I have been impressed by their high level of expertise and strong client relationship skills which have made all aspects of communication and collaboration easy. " Lee Kerr -

LynkPay
"We chose to work with Acquired because they have an in-depth knowledge of our industry, an intelligent gateway and innovative reporting functions - they are providing solutions that are vital in the ever-changing payments world. Acquired are agile, fast thinking and like us put the customer at the heart of everything they do. We know they are willing to go above and beyond to ensure they deliver for the merchant and their exceptional customer service is on display every time we work together. " Jason Costello -

Acceptcards
"Integrating Sticky with Acquired was quick - 2 days or less - and enjoyable. Acquired set up a shared comms channel to make communication a breeze, and we got answers to questions on the same day. We had Apple Pay working within a single day - a true rarity in this space. Following the work Acquired enhanced their public documentation even more to include specific code examples for ISVs like Sticky. It was a pleasure to share the 'it works!' moment with Acquired so quickly. Thank you for all of the help on this journey!" James Garner -

Sticky