All major payment methods
Make your checkout easier, faster, smarter and better for everyone.
Explore our solution
Our hosted payments solution is secure, quick to deploy and allows for deep customisation to integrate seamlessly with your checkout flow.
Fully customisable with the ability to add brand logos, colours etc.
Add payment options with the touch of a button
Fully optimised for web and mobile device browsers
Secure and feature-packed
Hosted Checkout backed by PCI compliance and rigorous security measures.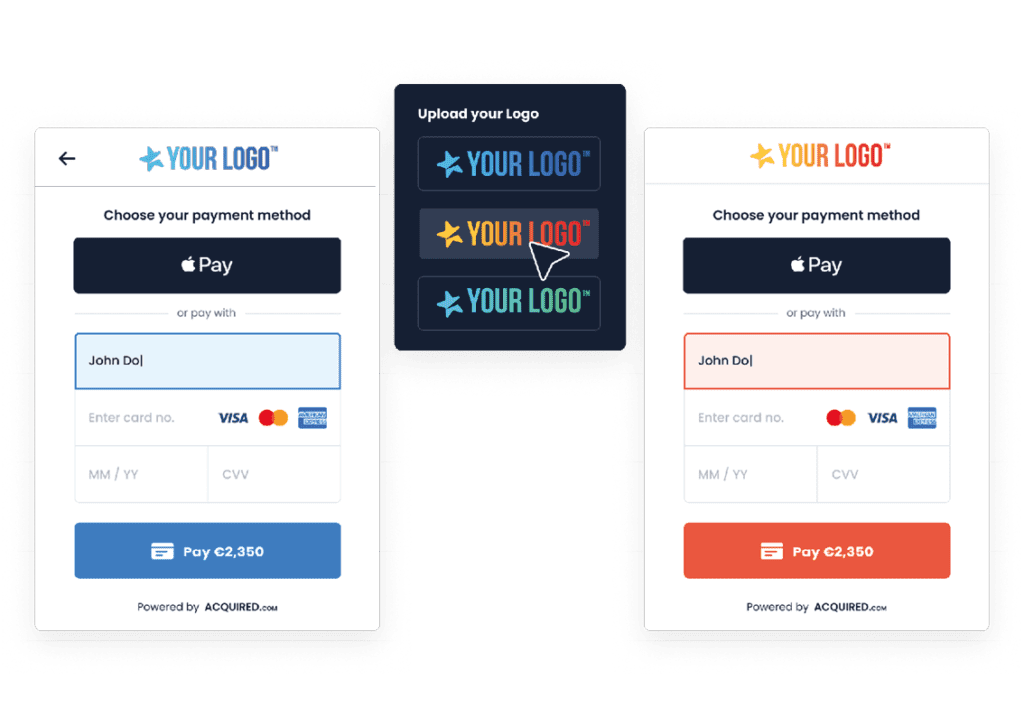 Customise the checkout experience
By integrating to Acquired's pre-built Hosted Checkout, offload the burden of PCI compliance and focus on delivering the best checkout experience to your customers.
Easily add or remove which payment methods to offer your customers with the click of a button and apply custom branding to match your brand.
Our Hosted Checkout solution is a payment page hosted by Acquired.com, providing all major payment methods to ecommerce businesses and their customers in one place. During the checkout journey, customers will be redirected from the ecommerce site to the 'Hosted Checkout' payment page to securely enter their card/payment details and complete the transaction.
An 'all-in-one' hosted checkout is the easiest way to offer multiple payment options to your customers via a single integration. Selecting the payment methods offered to customers and customising the look and feel of the checkout to match your business branding can all be completed via no-code tooling. The Hosted Checkout supports ecommerce business by maximising checkout conversion, and as the checkout is hosted by Acquired.com we are solely responsible for the safe and secure capture and storage of customer payment details.
Acquired.com's Hosted Checkout solution is the simplest way to start accepting payments online, significantly reducing the effort compared to a pure API integration for payments.
Ecommerce merchants who choose to use Acquired.com's Hosted Checkout solution will be able offer all major debit & credit cards, Apple Pay, Google Pay, Pay by Bank (Open Banking) and Buy Now Pay Later interest free credit.
Acquired.com offers a pre-built checkout solution which means that we provide the user interfaces in full to the ecommerce business, while still giving them the capability to customise the design to match their branding. This pre-built solution ensures that conversion optimisation designs are already in place for you to take advantage of.
Acquired.com are fully responsible for capturing and storing customer payment details with the Hosted Checkout. Offload the burden of the securely capturing payment details to Acquired.com and focus on your ecommerce customer journey. We do also offer the ability to complete an API only integration to our payment services, providing you a greater level of control over the payment page and capture + storage of customer information.
Speak to our team
Get in touch to explore how our Hosted Checkout can benefit your business.