The ecommerce sector is bigger than it ever has been and is still on the rise. As a result, the way we shop is changing, with online payments increasingly becoming the norm.
In this article, the payment processing experts at Acquired.com discuss some of the main ways that online payments and ecommerce are shaping the way we shop, which business owners need to be aware of if they don't want to fall behind the competition.
By choosing Acquired.com as your third-party payment processor, you'll benefit from an efficient and effective online payment solution that creates a streamlined experience for your customers and increases conversion rates for your business.
So without further ado, let's explore some of the ways that ecommerce is shaping the way we shop…
Online payments mean it's easier than ever before to make purchases
Ecommerce makes the act of buying more convenient than ever before, with customers able to make online purchases at the touch of a button.
Digital wallets such as Apple Pay and Google Pay securely store customer card details so they don't have to enter them every time they want to make an online purchase. This streamlines the entire online payment process and means payments can be made anywhere and at any time, offering customers a new level of convenience that was unheard of until recent years.
The fact that payments can now be made quickly and easily at any time or place thanks to the rise of online payment methods has implications of its own for how we shop in the ecommerce age. The more convenient it is to make online payments, the more likely customers are to convert and the more money they're likely to spend in online stores rather than physical stores.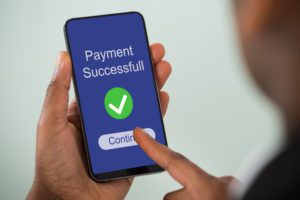 So, what does this mean for businesses? As more and more customers turn to ecommerce for its convenience, businesses need to make sure they're keeping up with customer demand by offering various online payment methods and making the checkout process as smooth as possible.
That's where payment processors like Acquired.com come in. Our payment processing solutions allow your business to easily accept online payments, offering multiple popular payment methods such as Debit & Credit Card Payments, Apple Pay, Google Pay, and payments via Open Banking to increase conversions. When presented with a choice of secure and reliable payment options, customers are more likely to complete their purchase and make repeat purchases in the future.
Customers are shopping around more
The growth of ecommerce has resulted in increased competition in the retail industry. With so many ecommerce businesses all offering the same products, customers are spending more time researching the different products before committing to a purchase.
There are a number of factors that can influence ecommerce shoppers to choose one business over another, including everything from the price of the product to Google reviews about whether the business is trustworthy or not. It's usually a combination of all of these factors that influences their final decision – but one major factor that should not be overlooked is how easy the online payment experience is.
Essentially, customers are more likely to give their business to businesses that offer a streamlined online payment experience. Customers want to be able to use their Apple Pay or Google Pay digital wallets to complete online transactions at just the touch of a button, rather than needing to type out their card details.
And if your customers are trying to make a purchase on the go, they might not even have their physical card to hand, which means you could lose out on conversions if you don't offer multiple payment options that allow customers to use their mobile wallets.
As well as offering Google Pay and Apple Pay integrations, Acquired.com makes the online payment process smooth and seamless not just for customers but also for businesses. One of the ways we do this is by automating manual processes, which includes sending out real-time notifications whenever key events occur so you can take immediate action and ensure no conversions are lost due to processing errors.
Businesses can learn about customer preferences with online payments
Customer payment preferences are rapidly changing, so it's important to be informed so you can stay ahead of the game. Online purchases make it easier for merchants to find out more about their customers and their preferred payment methods. Transaction data can be analysed to check which payment methods customers prefer to use – this information can then be utilised within your business to improve customer satisfaction.
More data about the shopper journey is available when payments are made online, which is useful to businesses for two key reasons: firstly, these insights can help online businesses to focus their marketing efforts based on which products are being added to the user's cart but not actually converting, and secondly, these insights may highlight problems in the online payment process that are either preventing or discouraging potential customers from converting.
With regard to the latter, the payment process can be easily smoothed out by partnering with a payment processor like Acquired.com. Our online payment processing solutions ensure that the entire payment process is seamless from start to finish, and our team of payment experts are available around the clock to assist you in optimising your payments ecosystem.
Businesses can expand their customer base by embracing ecommerce payment methods
Building a strong ecommerce presence offers businesses new opportunities to expand their customer base.
It's easier for customers to discover new businesses online than in person, which is why businesses need to ensure that their online checkout process is attractive to prospective customers.
Offering a wide range of convenient payment options is likely to increase conversions and turn one-time purchasers into loyal customers who will return knowing their payment will be handled seamlessly.
Ultimately, the ability to accept payments online is essential to the success of any business that has its place in the ecommerce world. Without it, they have no way to accept funds from customers in a way that is scalable and sustainable as the business grows.
As a reliable online payments processor, Acquired.com are highly attuned to our customers needs and continuously innovate to build customer-led solutions. This allows us to grow and scale effectively alongside our partners in order to keep up with demand as your customer base grows.
Effortlessly process online payments with Acquired.com
The team at Acquired.com has extensive experience in the online payments sphere, offering efficient, effective, and intelligent payment processing solutions to help your business grow.
When you choose us as your online payment processor, you can expect an exceptional level of customer service and a streamlined, convenient processing experience from start to finish that focuses on maximising conversions.
To learn more about our payment processing services and how Acquired.com could benefit your business, get in touch with the team today.