In the world of payment processing, there is so much jargon and industry-specific terminology, it can intimidate even seasoned payments experts.
One of the most common questions we get asked at Acquired.com is "what is a third-party processor", as well as how it's different from any of the other parties in the online payments process.
In this post, we'll be taking a look at what third-party processors are, how they work, their role in the payments process and the pros and cons of working with third party processors for businesses, so keep reading to find out more! Alternatively, get in touch with our team of experts to see how we can help you get the most out of your online transactions.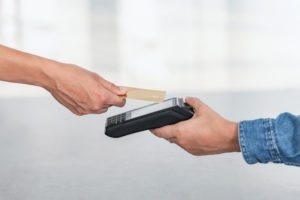 What is a third-party processor?
A third party processor (sometimes known as an aggregator) is an organisation that helps businesses accept payments from customers online. They act as the middleman between card networks or banks and businesses to process payment information, send information between parties in the payment process, and transfer money into the business' merchant account.
With the growth of the fintech sector, and the expansion of open banking technologies, third-party processors are becoming increasingly advanced. Many third-party payment processing companies offer a range of different features to e-commerce merchants beyond basic credit card payment processing, to offer an all-in-one solution when it comes to credit card transactions (or other payment methods).
Ultimately, third-party processors make it quicker, easier, and more secure for businesses to accept payments online.
How do third-party payment processors work?
Third party payment processors work by aggregating all of the payments that are made to their clients into one large merchant account (this is where the name aggregator comes from). Payment routing is then carried out to ensure that every business they work with receives the right payments and that their cash flow isn't disrupted.
From a customer perspective, a payment using a third party payment gateway works in the same way as any other e-commerce payment flow. They enter their details, go through the payment portal and find out whether their payment has been approved or declined.
When the payment is made on the merchant side, payments through TPPs go through the same processes of authentication, authorisation, and settlement. The payment processor handles the communication between parties throughout the transaction, authenticates the user information and is responsible for the transfer of funds between the bank and the retailer.
Many third party processors have expanded their reach to carry out more than just credit card payments and debit card payments online. TPPs can help businesses process payments from:
Major credit & debit card providers (Visa, Mastercard, American Express etc.)
Gift cards/vouchers
Link payments
Other processors like PayPal and Amazon Pay
How much do third-party processors cost?
Third-party payments processors make money by charging businesses a processing fee for every transaction they manage. Aggregators then get lower processing rates from their merchant bank, as they're making so many payments with the bank. The difference between the rate they charge business owners and the rate the bank charges them is where their own money is made.
Processors also usually charge setup fees and management fees to their customer base, but these costs tend to be lower than setup costs for a merchant service provider, and so are accessible to most ecommerce merchants and SMEs.
Merchant account providers vs. third-party processors
One of the main alternatives to working with a third-party processor is working with a merchant bank or business bank. A merchant account is a specific type of bank account that allows businesses to accept payments in multiple ways, including credit card or debit card payments.
Merchant accounts take longer to set up than a service with a third-party processor, as they need to go through a range of compliance requirements, measures and processes and also require a credit check and a look into the business's financial history.
When using 3rd party payment processors, because funds need to pass through the aggregator's merchant account, third-party processors also have slightly longer lead times than merchant account providers.
However, using an individual merchant account for processing payments comes with lower transaction fees and processing fees than third-party payment processing. For organisations that manage higher transaction volumes, merchant accounts are often a better choice financially in the long run.
However, for smaller businesses with a lower number of transactions per month, third-party processors offer a simple digital payments process, low setup costs and popular payment methods to customers.

Advantages and disadvantages of using third-party payment processors
For a huge number of organisations, there are many advantages to using third-party payment processors, including:
No PCI considerations or fees – for many business, the compliance process can be complicated, arduous, and expensive. Third-party processors take on this burden for their clients.
Easy-to-use user experience – the interfaces third party processors use allow businesses to better understand and access their payments and financial data.
Handling disputes and refunds – many third party processors have features where they can assist businesses in handling refunds, chargebacks, and disputes
Quick and easy onboarding – the onboarding process with a third-party processor is generally very quick and efficient, allowing businesses to start taking payments online very quickly.
Diverse payment methods – lots of third party processors will offer support for taking a range of payments, including payment wallets, gift cards, PayPal and Amazon Pay.
Payment analytics – many payment processors offer analytics tools, so businesses can get visibility on all their financial data and make more informed decisions regarding their payment strategies.
A personalised checkout experience – 3rd party processors allow their customers to create custom checkout experiences perfectly tailored to the needs of their businesses.
High payment success rate – as the checkout processes used by third party processors have been tried and tested by thousands of businesses, they are familiar to users and have been optimised for high success and conversion rate.
Of course, there are also disadvantages to using these types of services, as well. The key drawbacks for most organisations include:
The lack of control they have over how their payments are taken (particularly for businesses that require custom payment flows)
Slightly longer lead times than merchant bank accounts, as all payments have to go through the processor's own merchant account before reaching your organisation.
Higher fees per transaction than with merchant bank accounts can lead to high costs for organisations taking high volumes of payments.
As a rule of thumb, TPPs are fantastic for businesses that don't take an exceptionally high number of payments and are looking for a quick setup in order to take payments online. Of course, if you're unsure whether a third-party processor is right for your business, please don't hesitate to speak to the experts at Acquired.com.

Can your business use a third-party processor?
Almost any business taking payments online can use a third-party processor, though as we've discussed, it's generally a better option for business operations that are processing fewer transactions per month. The individual transaction fee model can be prohibitive for businesses managing a large volume of transactions on a regular basis.
If your business is looking for ways to streamline your business funds and get the most out of your credit card processing rates, third-party processors have many advantages.
How Acquired.com can help your business
At Acquired.com, we have extensive experience in all things payments. If you're thinking about working with a third-party processor, or want to understand the right options for you, please don't hesitate to get in touch!