3D Secure Authentication is a payment protocol designed to be used as an additional layer of security for online transactions. It's an extremely useful tool for both business owners and cardholders, improving security on both sides of the equation.
It's important for any business to ensure your payment processes are up to date with modern technology. As well as improving the security of your online payments, using 3D authentication will help to keep your customers happy, as well as ensuring you stay on the right side of the law.
To successfully implement 3D secure authorisation into your business, it's crucial that you understand how the process works. In this guide, we'll take a look at 3DS authentication and how it can benefit you, helping you to implement the system within your business.
If you'd like to find out how Acquired.com can help you with your payment needs, speak to a member of our team today.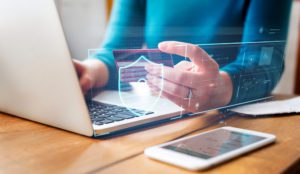 What is 3D Secure Authentication?
3D Secure Authentication is an additional security layer for businesses and customers, allowing them to make secure payments without having to worry about fraudulent activity. Essentially, 3DS Authentication is a process that aims to confirm that the person making the transaction is who they say they are.
The '3D' term refers to the three different domains that interact with the service:
The acquirer domain (referring to the bank or the merchant who is receiving the payment)
The issuer domain (the card issuer)
The interoperability domain (the infrastructure that supports the 3D Protocol)
When 3DS Authentication is in use, XML messages are sent over SSL connections with client authentication, using digital certificates to secure the transaction. Visa invented the software, although Mastercard also uses it. The latter uses a tool known as 'SecureCode', whereas the former uses 'Verified by Visa'.
3DS Authentication is incredibly important, particularly in the present day where hacking and fraudulent transactions are rife. The main aim of the 3DS solution is to ensure the person attempting a card transaction is the account holder of the debit or credit card being used. Not only does this protect the cardholder from theft, but it also adds additional fraud protection layers for the merchant.
How does 3D Secure Authentication secure the payment process?
3D Secure Authentication is a useful tool in securing the transactions that your customers make on your website. It works by creating an extra step during the payment process, which asks your customers to confirm they are the cardholder by asking them to verify their payment information.
Your customers will usually be asked to either confirm the payment in a mobile app, or type in a code sent to their mobile device, before the payment can be authorised. In some instances, biometric methods such as fingerprint and image recognition software can also be used. 
This is something that only the cardholder should be able to do, making the transaction more secure overall. It also helps with fraud detection, as the system will flag up any unauthorised transactions that have been attempted.
A new, more user-friendly version of the platform has recently been introduced, titled 3D Secure 2.0. This version enables the system to confirm authentication without input from the cardholder, making the process much easier and quicker to use.
Because of this, using the 3D Secure protocol should help to reduce fraud, benefitting both the cardholder and the merchant.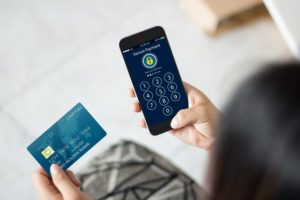 Your Step-by-Step Guide to 3D Secure Authentication
As you can see, 3D Secure Authentication is a vital tool for modern businesses, reducing fraud risk as well as improving the user experience. Now that you've decided you want to start using this payment solution within your company, it's important to understand how the process works.
We've created a handy step-by-step guide which will give you all the necessary information needed about the customer experience when using 3D Secure Authentication:
The customer chooses the product they want to buy and adds it to their basket.
Once they've confirmed they want to buy the product, the customer clicks on the payment button and enters their debit or credit card details on the online form.
Once the payment details have been added, the bank/building society then assesses the request, before completing the 3D Secure process.
An additional authentication step may be required at this point by the bank/building society. The customer may be required to confirm the payment in the app, or they may receive a code to input into the payment form as confirmation.
Once authentication has been successful, the payment will be confirmed.
You should receive payment for the item (this may take several hours/days, depending on the banking institution used and the payment amount) and the customer's order will be confirmed.
As you can see, the process is fairly simple and shouldn't take much longer than a non-secure payment, although the additional steps are crucial to protect customers from fraud.
When 3D Secure Authentication isn't used, the cardholder simply inputs their card details into the payment form, and the payment is confirmed. This increases the risk of fraud as it makes it much easier for criminals to make fraudulent credit and debit card transactions without the cardholder's permission.
The process may differ slightly depending on the provider used and the type of product being purchased. You can find out more about how 3D Secure Authentication may work with your business by reading through Visa's interesting guide.
If you feel that you need more help implementing 3DS Authentication into your brand, please contact us and we'll get the process started!

The Benefits of Using 3D Secure Authentication
There are many advantages to using 3D Secure Authentication within your business. It's crucial that you implement security protocols across the board, as this will not only benefit your company, but your customers as well.
Integrating extra layers of security into your payment transactions is a sensible choice – as well as helping to protect against fraud, it may also encourage customers to buy from your company instead of a competitor that doesn't use the 3DS Authentication process. This will make your business seem more legitimate to the average consumer, as well as promoting loyalty amongst your customer base.
However, the benefits don't end there. Here are some of the other advantages using 3D Secure Authentication may add to your brand.
Merchant benefits:
Reduced liability for fraud if it occurs. If a fraudulent transaction is discovered when using 3D Secure Authentication, the bank will be liable for it.
Fewer chargebacks and fewer labour losses due to fraud. This will make your business more profitable and improve your reputation.
Improved datasets for risk-based authentication.
Unauthenticated fraudulent payments will be prevented, even if the cardholder loses their card or it is cloned.
Better performance for end-to-end message processing.
Improved messaging with supplementary information for better decisions on authentication.
Overall functionality is enhanced, allowing merchants to integrate the 3DS Authentication system into their checkout processes (for both computer and mobile devices).
 Cardholder benefits:
Greater security for cardholders, as they're less likely to suffer from fraud.
Potential customers will have more trust in your brand, encouraging them to purchase again from you in the future.
Fingerprint and face ID authentication can be enabled.
Payment flexibility is increased across devices.
Specific app-based purchases on mobile devices are supported.
Modern technology means that the authentication process is seamless, making it easier for the customer to use.
Implementing 3D Secure Authentication into your business can be extremely beneficial, for both the merchant and the customer. If you'd like to find out more about how you can use our payment services to promote your brand, please get in touch with the team at Acquired.com today.
Add an extra layer of security: best practices for implementing 3DS Authentication
When implementing 3DS Authentication into your business, there are some best practices you should use to create additional security measures. This will help to create the optimal customer experience, as well as increasing fraud detection at all levels.
Before you start to implement 3D Secure Authentication into your online transaction process, you should make yourself aware of all the implications of using the service.
It's particularly important to make sure you're aware of who the liability lies with if fraud-related chargebacks occur. There's usually a liability shift in which the responsibility moves to the card issuer – if authentication is successful, the card issuer is liable for fraud. However, if authentication fails and a fraudulent transaction is processed, the merchant will usually be liable.
You also need to research potential providers thoroughly before committing. Not only will this help you to record information about your transactions once implemented, but it will ensure you're prepared for any eventuality. Understanding how the platform works is crucial to its success. Each provider should have their own implementation guide, which you should read through in full before adding 3D Secure Authentication to your business.
Another thing to be aware of is the difference between mobile and computer-based 3DS Authentication. Ensuring your website is optimised for mobile use is critical for any business, and your payment processing may differ slightly depending on how your site is accessed. The 3D Secure protocol was invented several years before the first smartphone, so it wasn't created with mobile functionality in mind.
Whilst it can be used on mobile devices, the system tends to be slower, which may have an impact on your business. 3D Secure Authentication has been improved for mobile users over the last few years with the implementation of 3D Secure 2.0, but you may need to upgrade and optimise your website for it to run smoothly.
It's crucial that you educate your customers on the importance of using 3D Secure Authentication so they understand why the checkout process is taking longer. Adding extra wording informing your customers about the 3D protocol and how it works at the checkout stage may help with this.
Understand authentication and compliance for your payment strategy with Acquired.com
You should now be aware of how important 3D Secure Authentication is for your business. It's a crucial tool that can help you to increase the stature of your brand, whilst also combating fraud.
At Acquired.com, we specialise in tailored payment processing and treasury solutions that are custom-built to overcome all of the challenges faced when utilising a payment system. We've become market leaders in our field since our inception in 2015 and we aim to make your banking and payments simpler, so you can focus on everything else.
We also have our own testing emulator for 3D Secure Authentication, enabling you to see how secure your payments are.
To find out how we can help your brand grow, make an enquiry with our expert team today.