For companies looking to diversify how they accept payments and offer more options to their customers, it's an exciting time to be in business.
With the developments that open banking and other technologies have brought forward, a host of new, simplified and diverse online payment methods are now available to companies, including Pay-by-link, or link payments.
In this article, the team at Acquired.com are taking a look at Pay By Link, how it works, how safe it is, and some of the benefits businesses can gain from using custom payment links, as opposed to the standard credit card or debit card payment flows online.
If you or your business wants to better understand link payments, build better e-commerce solutions, or increase the payment flexibility of your payment process, keep reading or get in touch with the team at Acquired.com.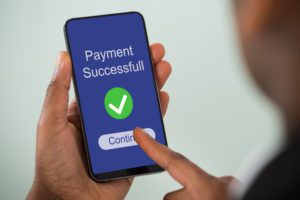 What is Pay-by-Link and how does it work?
Payment links (also called pay-by-link or checkout links) are a clickable link, buy button (on supported platforms), or scannable QR code that allows users to pay a predefined amount quickly and easily.
These links can be sent via email, text, social media or other messaging services – wherever your business speaks to your customers!
The links are short and accessible or can be condensed into a buy button or QR code, depending on your platform of choice. When the user clicks the link, they are taken to a secure payment page where they can enter their payment details (most commonly credit card or debit card details). They don't need to add anything to their cart, apply any discount codes or enter additional information, as the amount to pay and all other transaction details are set by the merchant.
Most pay-by-link pages can also be customised and branded for individual businesses to build trust with customers. Users may also have the option to pay with methods other than a payment card, including:
Then, once a successful transaction is completed, it works the same way as any other transaction for businesses. The key difference between traditional cart-based payment flows and pay-by-link for businesses is that the amount to pay is predetermined and set by the business before the link is sent.
There is a wide range of use cases for this method of payment selection, including payments online, in-person transactions, payments for services, custom orders, and online purchases and payments for small businesses online.
The origins of pay-by-link
Link payments' first use cases were for businesses like tradespeople, pop-up retailers and hospitality premises, allowing them to take digital payments without the need for any kind of card terminal for the first time. Using pay-by-link meant these kinds of businesses no longer needed to take card payments over the phone or carry a card payment terminal around with them. Pay-by-link proved to be incredibly popular, and was expanded to call centres and e-commerce businesses if they needed to take PCI DSS compliant payments over the phone or outside of regular e-commerce channels, without customers having to share their sensitive card details over all of these platforms.
As a fully remote payment method, link payments also became incredibly popular during the Covid-19 pandemic, allowing retailers to offer truly contactless payments. Simply sending a secure payment link or QR code allowed businesses of all kinds to continue to take payments from their customers without the need to pass cards, terminals, or cash between hands.
Today, pay-by-link payments are used by a whole host of different businesses and organisations to take customer payments without being face-to-face (also known as customer-not-present transactions).

Is Pay-by-Link secure?
One of the most common questions surrounding this method of payment collection is, of course, "Is pay-by-link secure?".
In short, yes, pay-by-link is safe to use.
Payment links sent by legitimate payment service providers (PSPs), using a secure payment gateway, and encryption and tokenisation technologies are just as safe as a card reader payment, payment with digital wallets, or an online credit or debit card payment.
However, users should be cautious about clicking on or paying via links that may have been sent by malicious parties, including:
Unsolicited payment links or links that you're not expecting to receive
Links that have not been sent by verified or official business accounts
Links without secure servers (all URLs users make payments through should have HTTPS at the start of the URL).
Customers should also never enter their financial data when using a public WiFi network.
What are the benefits of link payments?
As we've already covered, link payments and payment buttons have increased in popularity massively over the last few years and for good reason!
As well as offering flexible online payments solutions, link payments can:
Increase revenue
Reduce cart abandonments
Build flexible, omnichannel experiences that work the way your customers want to pay
Support telephone ordering models
Increase revenue and reduce cart abandonment
Link payments allow customers to pay for their services quickly, easily and efficiently.
Research overwhelmingly shows that streamlining the payment process for customers results in fewer abandoned carts/incomplete transactions, and higher revenue as a result.
Being sent a link via email or a link via SMS allows the customer to go straight through to the checkout, without having to navigate a website, place products in their basket or search for their desired outcome – it's all done for them and sent in one secure link.
Link payments are often more personal than going through an e-commerce sales funnel – their order or service has been worked out for them specifically, and they are paying using a custom link unique to their order.
Both of these elements of link payments reduce barriers to checkout completion and provide further incentives for thousands of customers to complete transactions, resulting in better cash flow, improved abandonment rates, and ultimately, increased revenue.
Create a flexible omnichannel experience for your customers
In today's business landscape, offering a smooth customer experience is key.
For many businesses, that means utilising the preferred channels of their users and having a deep understanding of where and how to communicate with customers. 
For transactions that happen outside of a traditional e-commerce website, such as services, ad-hoc payments or custom orders, sending a link for payment allows customers to speak to support or an individual in your business, and then to complete their transaction without having to leave the platform they're already using – the perfect solution for an omnichannel world.
Support telephone ordering models
Telephone ordering models can be optimised using link payments. For some customers, having to give sensitive card data to an individual they've never met, over the phone, can be daunting, even if they trust your business entirely!
With pay-by-link, companies can confirm an order of goods or services over the phone, and then send a payment link for the correct amount, confirmed using the merchant management system, directly to the customer via text. Customers can even make these payments while still on the phone with your team to confirm their transaction has been successful, or they can hang up and fill out the payment form at their own pace.

How to use payment links
One of the key advantages of payment links is that they can be used on a range of different devices, platforms, and digital channels.
If your organisation is considering implementing link payments, take a look at some of the popular use cases for these payments:
Social media platforms – Younger consumers in particular will regularly use social media to communicate with brands if they have a problem with their website or another company platform. Sending link payments through Instagram, Facebook, LinkedIn etc. allows consumers to pay for their goods or services in the same conversation as their issue is being resolved. Taking the onus for a digital invoice off the customer and delivering them a link payment directly makes life simple for them, and can help build trust with your customer support teams.
Emails and text messages – Email and text messages are some of the most established B2B and B2C messaging platforms. They are trusted by consumers and are easy to use. With an email or text message, pay-by-link codes can be delivered directly to a desktop or mobile device ready to pay.
In-person selling – Pay-by-link started with in-person sellers, replacing a virtual terminal for card payments. In-person selling with pay-by-link provides a simple alternative to cash payments or invoicing, without any interruptions to business cash flow.
In customer service chat – If a customer has reached your customer service chat, they're likely in need of a bespoke quote, additional information from your business, or are having an issue with the service. This makes them the perfect use case for simple, convenient link payments. Many customer service chat providers will now also integrate with PSPs to provide user-friendly buy buttons, making the process even easier for customers!
Expand your payment strategies with Acquired.com
If you're interested in expanding your payment strategies using pay-by-link, or in learning more about link payments please don't hesitate to get in touch with the payments experts at Acquired.com. You can also find out more about payment links as part of our Pay by Bank solution here.