We've all heard of Buy Now, Pay Later (BNPL) and how it has been shaking up the e-commerce sector in recent years. BNPL companies have burst onto the payments scene with high levels of funding and backing from key financial institutions, but they also aren't without their challenges.
When it comes to your business buy now pay later strategy, it can be difficult to know where to start!
At Acquired.com, we work with businesses in a wide range of different sectors, many of whom have questions about Buy Now, Pay Later service providers, and whether they are right for their business.
In this guide, we'll be taking a look at what BNPL is, how it works, and some of the key benefits and challenges associated with Buy Now, Pay Later for business.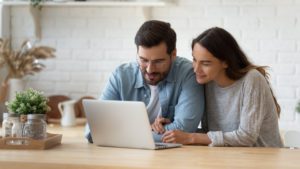 What is Buy Now, Pay Later? How does BNPL work?
Nearly all businesses and consumers will have heard of Buy Now, Pay Later, but what is it, and how does it work?
At its core, BNPL is a way for customers to spread the cost of purchases across multiple payments, rather than pay in full at the time of purchase. BNPL is a payment method that allows customers to purchase something immediately and pay for it over time, rather than having to apply for credit from a lender or obtain a credit card (and therefore being subject to a credit score and credit history check) before shopping. Today, BNPL services that offer a relatively short-term line of credit are more popular than ever!
Buy Now, Pay Later is most commonly offered on e-commerce and online shopping platforms. However, it originates from the traditional instalment plan – a way to pay for large purchases over time by spreading it over a number of monthly instalments. This is the first time that this form of financing has been so popular for everyday purchases, rather than large items like furniture, tech, holidays etc.
For this reason, there has actually been a transition in recent years from companies that have traditionally offered monthly financing options for high-value purchases away from using the terminology "Buy Now, Pay Later" to describe their credit offering, even though the service remains the same. You might see the term "interest-free credit" or "flexible payment options" being used to describe BNPL payment methods, but they're describing the same service.
The process of a BNPL payment
There are a couple of payment solutions offered by most Buy Now, Pay Later organisations: credit loans and deferred payments.
Credit loans allow users to pay for products and services in several monthly instalments, without having to go through credit reference agencies or other credit checks. When a customer chooses to pay for a product with this service, the BNPL provider will pay the business in full upfront, meaning businesses don't miss out on revenue when offering this payment method. The collection agreement of payment terms exists between the customer and the BNPL provider, and failure to pay on time will result in added interest for the customer.
Deferred payments, on the other hand, are exactly what they say on the tin – customers buy now and pay later! This can alleviate cash flow issues for customers, allow them time to return products if they aren't right, and make their shopping journey smoother overall. Again, when a user selects these repayment terms, the BNPL provider will pay the merchant directly, so no revenue is lost. If customers miss their deferred payments, they'll be subject to late payment fees from the BNPL provider.
For organisations looking into buy now, pay later options, it's important to note that there is no change in how cash flow enters your business – it just comes from the BNPL provider (minus their fees), rather than the customer directly.

What are the benefits for businesses of Buy Now, Pay Later?
Buy Now, Pay Later options have increased massively in popularity in recent years for many reasons. They provide convenience for customers and allow them to make purchases in ways that align with their financial plans and their own cash flow, without being caught out by interest rates on credit cards or having to go through credit rating agencies.
Buy Now, Pay Later is popular not just with customers, but with businesses too! There are many benefits for business Buy Now, Pay Later clients, including:
Increased conversion rates – Generally, businesses see increased conversion rates with a wider variety of different payment options available for customers.
Increased trust for customers – Many BNPL brands, such as Klarna, Afterpay, Payl8r, DivideBuy and more, are established household names. When customers see that these familiar brands are partnering with businesses, it can help build trust and legitimacy for retailers.
Making larger purchases more accessible – Larger purchases, bulk purchases and economies of scale are now open to potential customers when businesses offer BNPL payment options.
Higher average order value – With BNPL schemes making it easier than ever for customers to pay over time on monthly plans, many organisations see a higher average order value after adding BNPL capabilities to their checkouts.
Risk is assumed by the BNPL scheme – BNPL schemes take on all the risk when it comes to credit assessments, payment structures and ensuring purchases are paid back in full. For businesses, there are no additional costs associated with offering Buy Now, Pay Later, other than the BNPL service fees.
Helps businesses stay competitive – Today, a wide variety of BNPL options are open to users. This means that organisations that don't offer such schemes (particularly in high-value sectors), may well be putting themselves at a competitive disadvantage.
The challenges associated with Buy Now, Pay Later
However, like any new development, there are still challenges and considerations that businesses must be aware of when implementing new technologies into their payments process.
The costs of using BNPL services – First and foremost for many businesses is the cost of using BNPL services. Businesses can pay for BNPL services as a flat monthly subscription fee, a percentage value of every transaction (typically 2–8%), or a flat fee per transaction, depending on the provider.
Lack of credit checks – Not all BNPL providers require formal credit checks for customers, which means some buyers may be approved for finance who would not be approved through traditional channels. However, there are a new breed of consumer financing providers such as DivideBuy that are differentiating themselves from traditional BNPL's and leading the charge for ethical lending by helping customers make informed borrowing decisions. Not only do they utilise credit searches, they also include the use of soft search to check eligibility before applying. DivideBuy and others are keen to ensure they are abiding by the upcoming Consumer Duty to deliver good outcomes for customers, by putting ethical lending at the heart of their business strategy.
BNPL service providers are likely to face increased regulation in the coming years, which may mean uncertainty for some businesses. However, the payment model itself has been around for many years and will be around for many more, so even if service providers become more strictly regulated, the service offering itself isn't going anywhere!
Is Buy Now, Pay Later right for your business?
Buy Now, Pay Later has many advantages for businesses, but some additional considerations need to be made before choosing the right BNPL service provider for your organisation.
Adding BNPL to your online checkout is just one of the many payment methods that can help you offer a higher-quality service to your customers. Options like credit card and debit card payments, Pay by Bank, and virtual card wallets (like Apple Pay and Google Pay) all help offer more choices to customers and streamline their payment process.
At Acquired.com, we're passionate about helping organisations grow their business by streamlining their payments process, both for users and their internal teams. We offer a highly consultative approach, meaning we work personally with all of our clients to understand your needs and the needs of your customers.
To learn more about how we can help save your business money by reducing roadblocks in the payment process and improving the checkout experience for your customers (with or without Buy Now, Pay Later), get in touch with our team.